Huawei SmartAX MA5800-X7 OLT Hot selling olt
The MA5800, the multi-service access device, is a 4K/8K/VR ready OLT for the Gigaband era. It employs distributed architecture and supports PON/10G PON/GE/10GE in one platform. The MA5800 aggregates services transmitted over different media, provides an optimal 4K/8K/VR video experience, implements service-based virtualization, and supports smooth evolution to 50G PON.
The MA5800 frame-shaped series is available in three models: MA5800-X17, MA5800-X7, and MA5800-X2. They are applicable in FTTB, FTTC, FTTD, FTTH, and D-CCAP networks. The 1 U box-shaped OLT MA5801 is applicable to all-optical access coverage in low-density areas.
The MA5800 can meet operator demands for a Gigaband network with wider coverage, faster broadband, and smarter connectivity. For operators, the MA5800 can provide superior 4K/8K/VR video services, support massive physical connections for smart homes and all-optical campuses, and offers a unified way to connect home user, enterprise user, mobile backhaul, and Internet of Things (IoT) services. Unified service bearing can reduce central office (CO) equipment rooms, simplify network architecture, and minimize O&M costs.

Description
The MA5800 supports four types of subracks. The only difference between these subracks relies on the service slot quantity (they have the same functions and network positions).

MA5800-X7 (medium-capacity) 

MA5800-X7 supports 7 service slots and backplane H901BPMB.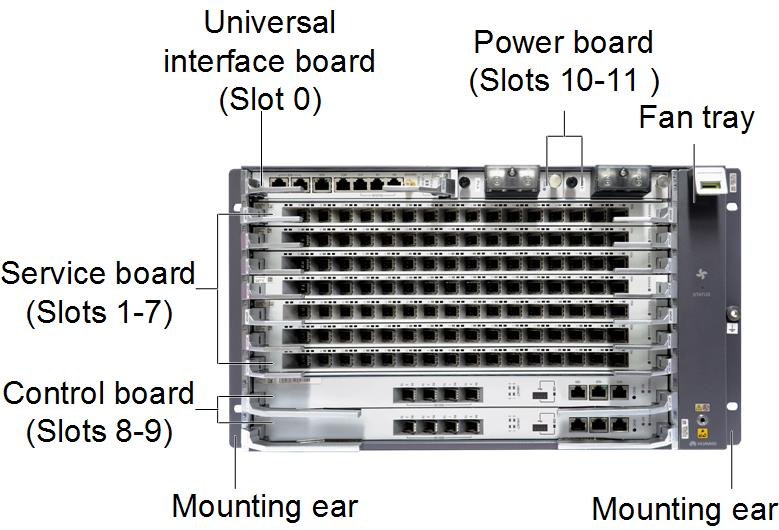 6 U high and 19 inch wide
Excluding mounting brackets:
442 mm x 268.7 mm x 263.9 mm
Including IEC mounting brackets:
482.6 mm x 268.7 mm x 263.9 mm
Including ETSI mounting brackets:
535 mm x 268.7 mm x 263.9 mm
Features
Feature
Gigabit aggregation of services transmitted over different media: The MA5800 leverages the PON/P2P infrastructure to integrate fiber, copper, and CATV networks into one access network with unified architecture. On a unified access network, the MA5800 carries out unified access, aggregation, and management, simplifying the network architecture and O&M.
Optimal 4K/8K/VR video experience: A single MA5800 supports 4K/8K/VR video services for 16,000 homes. It uses distributed caches that provide greater space and smoother video traffic, allowing users to start a 4K/8K/VR on demand video or zap between video channels more quickly. The video mean opinion score (VMOS)/enhanced media delivery index (eMDI) is used to monitor the 4K/8K/VR video quality and ensure excellent network O&M and user service experience.
Service-based virtualization: The MA5800 is an intelligent device that supports virtualization. It can logically partition a physical access network. Specifically, one OLT can be virtualized into multiple OLTs. Each virtual OLT can be allocated to different services (such as home, enterprise, and IoT services) to support smart operation of multiple services, replace outdated OLTs, reduce CO equipment rooms, and reduce operation costs. Virtualization can realize network openness and wholesale practices, allowing multiple Internet service providers (ISPs) to share the same access network, thereby realizing agile and fast deployment of new services and providing users with better experience.
Distributed architecture: The MA5800 is the first OLT with distributed architecture in the industry. Each MA5800 slot offers non-blocking access to sixteen 10G PON ports and can be upgraded to support 50G PON ports. The MAC address and IP address forwarding capacities can be smoothly expanded without replacing the control board, which protects operator investment and allows step-by-step investment.
Parameters
Specification
Item
MA5800-X17
MA5800-X15
MA5800-X7
MA5800-X2
Dimensions (W x D x H)
493 mm x 287 mm x 486 mm
442 mm x 287 mm x 486 mm
442 mm x 268.7 mm x 263.9 mm
442 mm x 268.7 mm x 88.1 mm
Maximum Number of Ports in a Subrack

272 x GPON/EPON
816 x GE/FE
136 x 10G GPON/10G EPON
136 x 10G GE
544 x E1

240 x GPON/EPON
720 x GE/FE
120 x 10G GPON/10G EPON
120 x 10G GE
480 x E1

112 x GPON/EPON
336 x GE/FE
56 x 10G GPON/10G EPON
56 x 10G GE
224 x E1

32 x GPON/EPON
96 x GE/FE
16 x 10G GPON/10G EPON
16 x 10G GE
64 x E1

Switching Capacity of the System
7 Tbit/s
480 Gbit/s
Maximum Number of MAC Addresses
262,143
Maximum Number of ARP/Routing Entries
64K
Ambient Temperature
-40°C to 65°C**: The MA5800 can start up at a lowest temperature of -25°C and run at -40°C. The 65°C temperature refers to the highest temperature measured at the air intake vent
Working Voltage Range
-38.4V DC to -72V DC
DC power supply:-38.4V to -72VAC power supply:100V to 240V
Layer 2 Features
VLAN + MAC forwarding, SVLAN + CVLAN forwarding, PPPoE+, and DHCP option82
Layer 3 Features
Static route, RIP/RIPng, OSPF/OSPFv3, IS-IS, BGP/BGP4+, ARP, DHCP relay, and VRF
MPLS & PWE3
MPLS LDP, MPLS RSVP-TE, MPLS OAM, MPLS BGP IP VPN, tunnel protection switching, TDM/ETH PWE3, and PW protection switching
IPv6
IPv4/IPv6 dual stack, IPv6 L2 and L3 forwarding, and DHCPv6 relay
Multicast
IGMP v2/v3, IGMP proxy/snooping, MLD v1/v2, MLD Proxy/Snooping, and VLAN-based IPTV multicast
QoS
Traffic classification, priority processing, trTCM-based traffic policing, WRED, traffic shaping, HqoS, PQ/WRR/PQ + WRR, and ACL
System Reliability
GPON type B/type C protection, 10G GPON type B protection, BFD, ERPS (G.8032), MSTP, intra-board and inter-board LAG, In-Service Software Upgrade (ISSU) of the control board, 2 control boards and 2 power boards for redundancy protection, in-service board fault detection and rectification, and service overload control
Download
Huawei OLT MA5800-X7 Datasheet